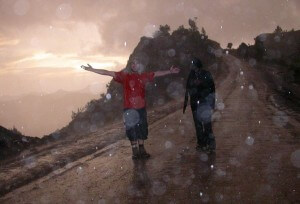 "A veritable monsoon!" Is how I often describe it, and it is. Its cause is the same weather patterns that cause the monsoon to sweep up through India – monsoon is the Indian word for their rainy season and kremt is the Amharic word.
And rather like the monsoon in India it does not rain all day, but rather heavy downpours roll through, skies darken, the wind picks up and torrential rain, often with hail follows. Later on or next morning the skies are clear and the sun shines brightly for some hours.  Its not a bad time to be in Addis or in Ethiopia. Pack an umbrella, put on the some boots, and head off to explore. If your visiting, just be ready to dive into a coffee shop and sit out the rain.
This year in Addis the Kremt is giving us a lot of sun and glorious weather, with much of the rain in the night. This is worrying, as the rain that comes to Addis is far more than the rain that goes to many other regions of Ethiopia, all of which depend on the Kremt to start off their crops, allow the meadows to grow hay, refill the water table so springs are replenished, refill reservoirs to generate electricity. If the rains intensify now that would be good, and they need to be strong through into late September. The official date for the end of the Kremt is Meskerem 25th which this year falls on 6th October, but already by the Meskal holiday (Meskerem 17 or 28th September) the rains will usually become far less frequent and the signs will be there that the dry season is coming.
A reminder for anyone looking to do some trekking. Tigray is fantastic for walking at this time of year. It does not rain much there, mostly at night, and the sun will be out in the morning. Let us know if you would like to make a trek and we can organise it.