The British Foreign & Commonwealth Office (FCO) have lifted travel advise against non essential travel to all tourist destinations in Ethiopia. On 2nd December they returned their advise to the pre September levels with exception of several remote woredas (district) in North West of Gondar, by lifting advise against travel to western Amhara and parts of Oromiya.
Naturally we knew it was safe for tourists to visit for a long time now, and having just been back from the Simiens, Gondar and Bahir Dar myself, I could see  how peaceful it was. A priest on Lake Tana was confused as to why tourists were staying
away from his church. It was not easy to explain to him why foreign governments thought Ethiopia so dangerous. I look at some of the advise still on these websites and am baffled myself.
Lake Tana has seen the ebb and flow of history for several millennia. At one church I went to the priest in the museum told us that the church dated back to some 900 years BC! ….Err… how is this possible? Well the assumed original structure and location were part of a Jewish temple and was a refuge for the Arc of Covenant in pre-Christian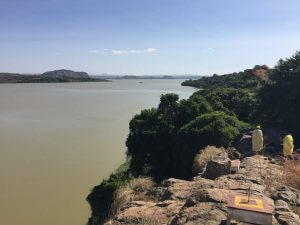 times!  Such is the importance of the Old Testament era in Ethiopian Orthodox thinking that there is no clean break but a continuum into the Christian era.
Imagine the changes and upheaval that has passed by Lake Tana in the last 2900 years! Armies of Queen Yodit (a Jewish Queen) Mohammed Gragn (from Harar) resulted in burned churches and upheaval, as did wars between factious regional leaders and epochs of civil war that left their damage. The recent disturbances pale against those
of history! Lake Tana is a tranquil place, with history going back into the mists of time. It is a lake which still has hippos and where you can greet fishermen passing by in the papyrus tankwa canoes (a craft also found on the Nile and Lake Titicaca!).  So pack your bags and  come and see for yourself.